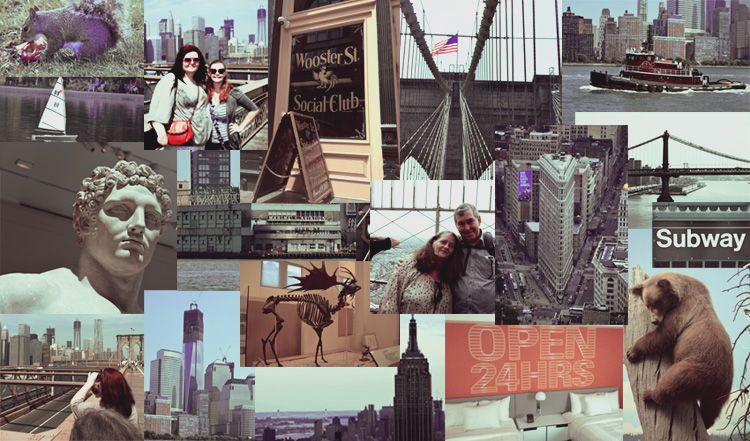 In July I went to New York City with my parents and we had tons of fun. It was my parents first time in NYC, actually their first time in the US, while I had been to the US two times prior and one time to NYC before our trip. Also my parents gave me a wonderful present by paying for a planeticket for my friend in Florida. I haven't seen her since I visited her back in 2009! It was such an amazing thing and a wonderful present for her as well, seeing as she turned 21, 2 days before visiting NYC :D
The city is absolutely amazing and once you've been there you finally understand why they call it "the city that never sleeps". There's always noises and people on the streets, which can be annoying, but nevertheless it's part of the experience and without it, it wouldn't be the same.

One of the things that surprised my parents the most was the fact that the New Yorkers are so friendly. They moved to the side and let us have a table first, because we had my mother in a wheelchair. For example. at JFK we were met by the amazingly sweet guy who pushed my mom in a wheelchair for us. He made sure we got through Border controls without having to wait for hours and he helped us all the way out to the cab/taxi line and arranged it all so we could skip the line. Also Hard Rock Cafe offers a great service for handicapped. The line there can be VERY long and you some times have to wait 2 hours for a table, but we were allowed to skip the line and got a table within 10 minutes, so thumbs up for sweet people and great service :D
While in New York City there are some must-sees and while the city is big and offers lots of museums, etc. you don't have to see it all. I recommend that you get yourself a CityPass. The voucher contains tickets for Empire State Bulding, American Museum of National History, Metropolitan Museum of Art, MoMA, Top of the Rock or Guggenheim, Statue of Liberty/Ellis Island or Circle Line Cruise.
What I recommend is to use the split tickets for Top of the Rock and the Circle Line Cruise. TotR gives you the most amazing view of Central Park and Empire State Bulding and the Circle Line Cruise offers the best view of the Statue of Liberty. We chose to pay $4 more and get a 3 hour full island cruise and it was worth the money. You get the see all of Manhattan from the water and the tourguides are amazing :D
All in all, this is what I recommend that you see if you ever visit NYC.
– Central Park
– Top of the Rock (at night)
– Empire State Building (in the morning)
– American Museum of National History
– Metropolitan Museum of Art
– Brooklyn Bridge
– Brooklyn in general
– 5th Avenue
– Museum Mile
– Times Square
– MoMA
– Guggenheim
– Crystler Building
– Grand Central (remember to visit the foodcourt and market)